Send us a whatsapp for a quick quote! 060 987 5467

Services

Furniture Repairs
Strip, Sand & Re-polish (Natural or wood stain - any sheen, from matt to gloss)
Re-duco - your colour and sheen choice
Re-upholster - quality workmanship. Your fabric or ours.
Re-riempie - new leather strips
Re-cane - handcaning or beadcaning
Re-design - complete furniture makeover including any/all of the above and/or paint effects
Collection & Delivery - nominal fee depending on area

Benefits

Repair & renew your old sentimental pieces of furniture
Transform your furniture into entirely unique pieces in a customisable and cost-effective manner – actively involving you each step of the way!
Environmentally friendly approach to new furniture – we re-create old furniture as opposed to manufacture new furniture
Friendly & approachable, we pride ourselves on our excellent service and quality workmanship.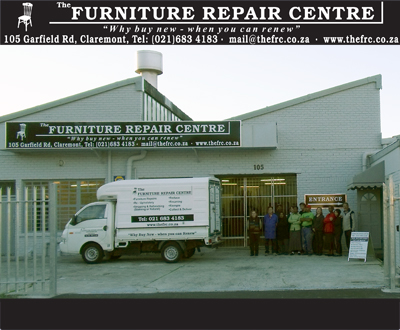 Whether it be repairing a sentimental piece of furniture or customising your very own piece, the Furniture Repair Centre offers a uniquely varied array of quality furniture services as well as an exciting new retail selection – F.R.C. Fashionably Rediscovered Collection. In fact, our skills are so varied we had to wait to put up the full website until we've collected enough pictures showing off our amazing work on your beautiful furniture!
So come back soon to our new transformed website, featuring our best before and after pictures. If you want to learn more, get ideas or just have us contact you, drop us a line.
This is how it works: All our clients receive a reference number on their invoice – come back to our website and click the view my photos button, type in the reference number and see all of the before and after photos of your pieces for you to view, save or e-mail to a friend!
We offer the complete furniture solution under one roof, conveniently and safely situated in Claremont, Cape Town. With great service, quality workmanship and honest advice it's no surprise we were a finalist in the 2008 Cape Talk / Nedbank Small Business Awards competition.